Galaxy's Edge Details Revealed On Rides, Attractions, And Food
StarWars.com posted four new articles last night with details on all aspects of the upcoming Galaxy's Edge attractions at the Disneyland and Disney World parks. Galaxy's Edge will open this summer at Disneyland in Anaheim, California and be followed in the fall with the launch of the new world at Disney World in Orlando, Florida.
In "The Making of Star Wars: Galaxy's Edge," Dan Brooks looks at the story surrounding the world of Batuu and the Black Spire Outpost. What are the main attractions, how does Galaxy's Edge fit into the Star Wars universe, and what can fans expect of the immersive new land?
Dan Brooks also takes a look at the merchandise that will be found in the shops in "The Aliens, Droids, And Shops of Star Wars: Galaxy's Edge." Build stations will be a big part of the experience with lightsabers and droids being highlights. Toys and collectibles will be in-universe inspired with The Creature Stall and The Toydarian Toymaker selling plush rathtars, puffer pigs, and tauntauns, as well as musical instruments, tin toys, and more. At Dok-Ondar's Den of Antiquities you'll find stone carvings and holocrons. As collectors, these types of things are really exciting, especially the Droid Depot.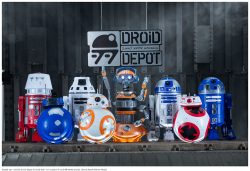 "From Blue Milk to Ronto Wraps: The Food and Beverages of Star Wars: Galaxy's Edge" walks us through the exclusive eating options on Batuu. There will be several restaurants and stalls throughout Galaxy's Edge serving blue and green milk, Meiloorun Juice, Ronto Wraps, and Felucian Garden Spread. Oga's Cantina will serve alcoholic drinks including the Bespin Fizz and The Outer Rim.
And in "27 things We Learned About Star Wars: Galaxy's Edge," Dan Brooks runs down all the highlights from his tour of Galaxy's Edge, including details on Millennium Falcon: Smugglers Run and Star Wars: Rise of the Resistance, the two main ride attractions. The article also covers information about how the Disney Cast Members will be dressed and interact with guests, some of the inspiration for the land and how it's been "future-proofed."
Exact dates for the opening of Galaxy's Edge haven't been nailed down yet but fans close to Disneyland will have the first shot at visiting the galaxy far, far away within the next few months.