Press Release From McFarlane Toys Announces The Witcher Action Figures
MCFARLANE TOYS AND CD PROJEKT RED TEAM UP TO BRING ACTION FIGURES OF AWARD-WINNING "THE WITCHER" FRANCHISE TO GAMING FANS EVERYWHERE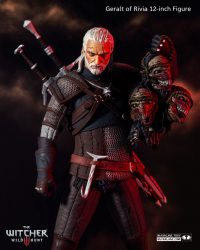 Tempe, Ariz., August 17, 2020– One of the most critically acclaimed and popular video game franchises has linked up with one of the most innovative and creative action figure manufacturers. In a partnership with CD PROJEKT RED, McFarlane Toys is excited to announce the addition of The Witcher 3: Wild Hunt action figure into their Fall 2020 lineup with the reveal of witcher Geralt of Rivia. A master of the sword, adept at combat magic, and with finely-honed witcher senses, Geralt was forged at the elite School of the Wolf and is considered one of the deadliest witchers ever trained.
The Geralt of Rivia 12-inch figure will be featured wearing his signature Kaer Morhen armor and will include Geralt's silver and steel swords with sheaths, monster head trophies, and The Witcher branded base.
Video games produce some of the most amazing visuals you'll ever see, and The Witcher is a huge part of that," said Todd McFarlane, Creative Force and CEO of McFarlane Toys. "With The Witcher 3: Wild Hunt, we're now able to take these characters and literally have them jump out of your screen and create the most realistic, accurate action figure out there!"
McFarlane Toys' Geralt of Rivia 12-inch figure will be available for pre-order in mid-Oct at Amazon.com and available at Best Buy, Walmart.com and specialty retailers worldwide in November 2020. MSRP $39.99.
Developed by CD PROJEKT RED and winner of over 250 Game of the Year awards, The Witcher 3: Wild Hunt is a story-driven, open-world RPG set in a visually stunning dark fantasy universe full of meaningful choices and impactful consequences. As one of the few remaining professional monster slayers for hire known as 'witchers,' chart your own path to adventure in sprawling, monster-infested lands of the Continent. Discover unexplored landmarks and abandoned ruins, meet vivid characters with their own goals and motivations, and take on multi-layered quests as you strive to find the Child of Prophecy whose power might just be the key to saving the entire realm — or destroying it.
Fans will start to see additional new The Witcher action figures from McFarlane Toys rolling out on retailer shelves in 2021.
ABOUT MCFARLANE TOYS
Grammy-and Emmy-winning producer/director Todd McFarlane, creator of Spawn, is the creative force behind McFarlane Toys, one of America's top action figure manufacturers. McFarlane Toys has become an award-winning industry leader, redefining the artistic and creative standards within the action figure market

About CD PROJEKT RED
CD PROJEKT RED is a game development studio founded in 2002. It develops and publishes video games for personal computers and video game consoles. The studio's flagship titles include The Witcher series of games, Thronebreaker: The Witcher Tales, GWENT: The Witcher Card Game and the upcoming futuristic AAA role-playing game — Cyberpunk 2077. Together with GOG.COM, a game store offering hand-picked titles for PC and Mac, CD PROJEKT RED is part of the CD PROJEKT Capital Group. CD PROJEKT S.A. is listed on the Warsaw Stock Exchange (ISIN: PLOPTTC00011).

About The Witcher franchise
Created by CD PROJEKT RED, The Witcher is a series of fantasy role-playing games following the adventures of professional monster slayer Geralt of Rivia. To date, the series has sold over 50 million copies worldwide and garnered over 1000 awards. The Witcher 3: Wild Hunt, which released in 2015 for PC, PlayStation 4 and Xbox One, and later in 2019 on the Nintendo Switch, won a total of 250 Game of the Year awards. The Witcher games are set in the universe created by Andrzej Sapkowski in his series of books.