Orli Shoshan And Tim Rose Return To Celebration
Orli Shoshan, Shaak Ti, and Tim Rose, Admiral Ackbar puppeteer, make a return as guest at Celebration Anaheim along with Jett Lucas, Zett Jukassa. Joining them will be first-timers Margo Apostolos and Kevin Thompson, Ewoks Tokkat and Chubbray respectively.
Announced today on starwars.com, they join Giancarlo Esposito, Carey Jones, Joonas Suotamo, Daniel Logan, and Omid Abtahi which we posted about earlier.
Star Wars Celebration Anaheim takes place May 26-29, 2022.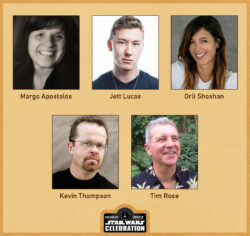 Correction 4/1/2022: We originally posted that this would be Jett Lucas' first Celebration guest appearance but he attended Celebration Chicago in 2019