Hasbro's "I am your Father's Day" Livestream Reveals For June 2021
Hasbro held a livestream event yesterday and announced several new Black Series and Vintage Collection items. Most of what was announced will be available for pre-order starting at 1:00PM EST on June 10th. There were several "pipeline reveals," no product shown, that will excite collectors and we also had an announcement that a new HasLab project will be coming later this year for Black Series. The only hint for the HasLab project is that it won't be a vehicle.
The Vintage Collection
First up, the Fans' Choice winner, Republic Trooper, will be a Hasbro Pulse and shopDisney exclusive and will be available for pre-order on 6/10 while the other announcements will be wide releases. Coming back to the line will be a very desirable figure in the Rebel Soldier Echo Base. Hasbro also treated us to a video of the Razor Crest photoshoot showing what's likely to be final paint and coloring for the ship. The video also gave us a peek of Kuiil, which was then announced after the video.
Republic Trooper (Hasbro Pulse & shopDisney)
Rebel Soldier (Echo Base Battle Gear)
Bo-Katan
Mythrol
Kuiil
Bib Fortuna
Lobot
Navarro Cantina playset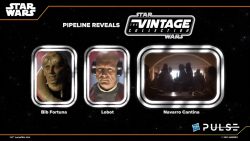 Black Series
There were only and handful of new announcements for the Black Series, but there were multiple re-issues and a new wave of Archive Series.
Archive Series
Princess Leia ANH
Obi-Wan Kenobi ROTS
501st Legion Clone Trooper ROTS
Darth Revan
The main Rogue One team will be wrapped up with the newly announced Bodhi Rook and, as they did with the Rebels crew, Hasbro will be re-releasing the rest of the team. These will be Fan Channel releases so look for them from Hasbro Pulse, BigBadToyStore, Entertainment Earth, and similar outlets.
Bodhi Rook
Jyn Erso
Captain Cassian Andor
K-2SO
Chirrut Imwe
Baze Malbus
Two other new characters to Black Series, also from Rogue One, will be Target exclusives.
Jedha Patrol Stormtrooper
Bib Fortuna
Mayfeld
Fennec Shand
Nomad Boba Fett
Cobb Vanth