Star Wars Celebration Anaheim 2022 – Casetify, DC, Hunters, Stern Pinball & Volkswagen
Casetify
Arguably one of the best designed booths at Celebration was the Casetify booth, where they were showing off a large range of protective cases. But the fun part was the large Millennium Falcon cockpit photo op. The screen behind the window showed a starfield but then also jumped to hyperspace. This is the type of booth we've seen at previous Celebrations but haven't had the past few times. The large range of cases they had on display should cover most of your needs for both iPhone and Android phones, specifically Samsung models. They also had several designs that are geared more towards collecting for the art rather than actual use.
DC Shoes
DC Shoes was showing off two snowboards and ski wear and printing custom t-shirts during Celebration.
Hunters
Star Wars Hunters is a new mobile game, and Nintendo Switch, that will be released later this year. They had a large, impressive booth with the game installed so fans could try it out. We didn't play the game or stop for any additional information but you can head over to the official website, swhunters.com, to see the characters, watch the trailers, and look for release updates.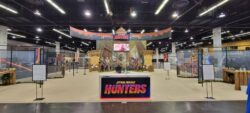 Stern Pinball
Stern Pinball had three of their new Mandalorian themed pinball machines on hand for guests to play. The graphics on the playing field are bright and there are some 3d elements, including the Razor Crest and Grogu.
Volkswagen
Volkswagen was showing off two custom designed vans at Celebration, one in Sith red and one in Jedi blue. On Friday morning, Ewan McGregor and Doug Chiang were spotted at the Volkswagen booth doing promotional work for the vans on display.