Hasbro Warehouse Sale Brings Pre-Christmas Deals
Hasbro is holding a two day warehouse sale in Carlisle, PA and they have great deals on some recent collectibles.
Black Series and Marvel Legends 6-inch figures for $5 each, Vintage Collection $3, Vintage Collection Skiff $10, Black Series Incinerator Trooper helmets $20, Transformers Omega Supreme $20, and more. Force Link 3.75″ figures and vehicles from Solo: A Star Wars Story were included as were some of the Star Wars Resistance single carded figures. Rogue One 12″ figures, Galactic Heroes, role play lightsabers, Mighty Muggs, and even The Rise of Skywalker First Order Driver & Treadspeeder.
This is the first time Hasbro's held a warehouse sale and the product available was from their Jonestown, PA site. Some of the items were dented boxes and for the most part, about a year old.
Update 12/17 – Per Steve and Andy of the Pennsylvania Star Wars Collecting Society, who attended both days of the sale, Hasbro had some items that were not intended for the sale. That includes the Vintage Collection Skiff and some items that weren't put out on tables, such as the Captain America shield, San Diego Comic-Con Luke Skywalker 3-pack, and a GameStop exclusive Marvel Legends Punisher. The pic below shows the pallets that were in error, wrapped up for a return.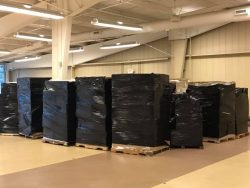 Our thanks to Steve Rensi for providing the photos and reporting from the sale.
Correction: We originally noted that there were cases of The Vintage Collection Rey Island Journey at the sale when they were, in fact, Black Series. We've removed the comment about the Vintage Collection figure.