Hasbro And IDW Announce Synergy: A Hasbro Creators Showcase
Synergy: A Hasbro Creators Showcase Celebrates the Amazing Artistry and Storytelling of Women in the Comics Industry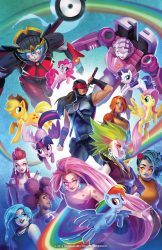 San Diego, CA (December 18, 2018) — In recognition of Women's History Month, IDW Publishing and Hasbro Inc. (NASDAQ: HAS) have teamed up to create Synergy: A Hasbro Creators Showcase, a 48-page celebration anthology of fan-favorite creators and new talent working with many of the most beloved Hasbro characters.
The Synergy anthology features five brand-new stories: autobiographical works written by Mairghread Scott (drawn by Sara Pitre-Durocher, reuniting the creative team behind the Transformers: Till All Are One series) and Katie Cook (of the hit My Little Pony comic), plus original tales inspired by G.I. Joe, Transformers, and Jem and the Holograms.
Mairghread Scott says, "Transformers is a brand that shaped both my childhood and adult life. I'm grateful for the chance to talk about what these amazing robots have meant to me, and others, over the years."
Katie Cook says, "Hasbro was such an integral part of my upbringing. My Little Pony inspired a youth full of pastel imaginings and became a huge part of my cartooning career as I got the chance to make those imaginings real. I bonded with childhood friends over ponies in the 1980s, and as an adult, I crafted stories for My Little Pony alongside creators who have become the friends of a lifetime."
In addition to storytelling, Synergy: A Hasbro Creators Showcase includes four new pin-ups, as well as a gallery of thirteen fabulous images from the IDW archives – dynamic illustrations that celebrate the women who have already made, or will soon make, an impact on the world of Hasbro for many years to come.
Synergy editor Megan Brown says, "This is a great coming together of creative talent and an amazing showcase for a host of wonderful authors, artists, and colorists — both old and new. I am beyond thrilled to be editing this compilation, and to be given the chance to highlight the amazing work of women in the comics industry."
For information on how to secure copies of Synergy: A Hasbro Creators Showcase, please contact your local comic shop or visit www.comicshoplocator.com to find a store near you.
About IDW
IDW Publishing stands proudly at the forefront of printed visual entertainment, cultivating a formidable library of world-renowned licensed brands and creator-owned original IP. Its diverse array of comic books, graphic novels, and art books deliver reading enjoyment to fans of all ages. Its award-winning imprints The Library of American Comics, Yoe! Books, and Artist Editions preserve the valuable cultural history of the sequential art medium, while titles under the critically acclaimed Top Shelf and Black Crown banners celebrate fiercely independent voices. IDW Publishing is a division of IDW Media Holdings, Inc. (OTCQX: IDWM), a fully integrated media company with robust offerings in publishing, tabletop gaming, multimedia entertainment, and art exhibition via the San Diego Comic Art Gallery.
About Hasbro, Inc.
Hasbro (NASDAQ: HAS) is a global play and entertainment company committed to Creating the World's Best Play Experiences. From toys and games to television, movies, digital gaming and consumer products, Hasbro offers a variety of ways for audiences to experience its iconic brands, including NERF, MY LITTLE PONY, TRANSFORMERS, PLAY-DOH, MONOPOLY, BABY ALIVE and MAGIC: THE GATHERING, as well as premier partner brands. Through its entertainment labels, Allspark Pictures and Allspark Animation, the Company is building its brands globally through great storytelling and content on all screens. Hasbro is committed to making the world a better place for children and their families through corporate social responsibility and philanthropy. Hasbro ranked No. 5 on the 2018 100 Best Corporate Citizens list by CR Magazine, and has been named one of the World's Most Ethical Companies® by Ethisphere Institute for the past seven years. Learn more at www.hasbro.com, and follow us on Twitter (@Hasbro) and Instagram (@Hasbro).